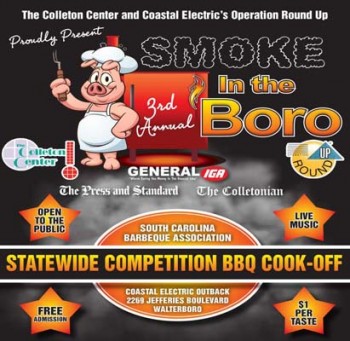 The weekend will consist of two separate events: "Anything Butt" will be held on Friday night from 5:30-8 p.m. Cooking teams from North Carolina, Georgia and South Carolina, including Colleton County, will prepare anything of their choice, from appetizers to chicken bog to desserts — anything but barbecue. Local judges from our community will test the entries, the winner announced and a prize awarded on Saturday afternoon. The band, Back Road, will be performing on Friday night.
On both Friday and Saturday, admission is free. The public will buy tasting tickets for $1.00 each to sample the variety of food. Soft drinks, water, beer and wine will also be offered through ticket purchases.
On Saturday, local churches will be holding bake sales to raise funds. There will also be a car show in the front parking lot of Coastal Electric. The Cub Scouts will be holding their Pinewood Derby, and other activities, such as face painting, will be available for children. Going to the Dogs Band and Grapefruit Moon will offer music for the day.